The Institute for Advanced Troublemaking Anarchist Summer Camp will be held August 11th – 18th, 2017 in Worcester, MA.
Maia Ramnath, Institute for Anarchist Studies (IAS) and Perspectives on Anarchist Theory journal collective member; Cindy Milstein and Todd May, former IAS board members; and Hillary Lazar, IAS writing grant recipient, and author of the essay "Until All Are Free: Black Feminism, Anarchism, and Interlocking Oppression" in the current issue of Perspectives, are among many people presenting at this summer's Institute for Advanced Troublemaking anarchist summer camp in the Northeast US. The summer camp is a week-long theory and action camp to be held in Worcester, MA August 11th – 18th, 2017.

The Institute for Advanced Trouble-Making (I.A.T.), the anarchist group organizing this project, describes themselves as: "a small collective of long time anarchist organizers seeking to create a lasting movement education hub in the Northeast of the so-called US.
Our long term goal for the I.A.T. is to create a lasting anarchist education hub in the Northeast that can train new and old organizers alike beyond the basics in anarchist theory, organizing, and revolutionary movement building.
As Trump's presidency has spurred a swell of activity and increased awareness of ongoing injustices, the I.A.T. aims to focus that energy to raise collective capacity to target injustice at a systemic level with effective direct action and campaign work.
We want to escalate and build skills in direct action, infrastructure building, and community organizing. We have seen the need for our movements to develop a more cohesive and strategic outlook for the days ahead- building innovative new strategies that can present a revolutionary challenge to the state, capitalism, and systemic violence.
The Institute for Advanced Trouble-Making seeks to break limitations of the current action camp model and informal radical education spaces by combining a rigorous exploration of anarchist and social movement theory with concrete movement-building skills.
We are inspired by past radical movement education efforts that sought to bring organizers and  theorists together in generating practical movement tools, strategies, and tactics. We believe that in order to create dynamic movements capable of taking on capitalism, the state, and systemic oppression we need radical education infrastructure for and by organizers."
You can donate here! to help make this reality!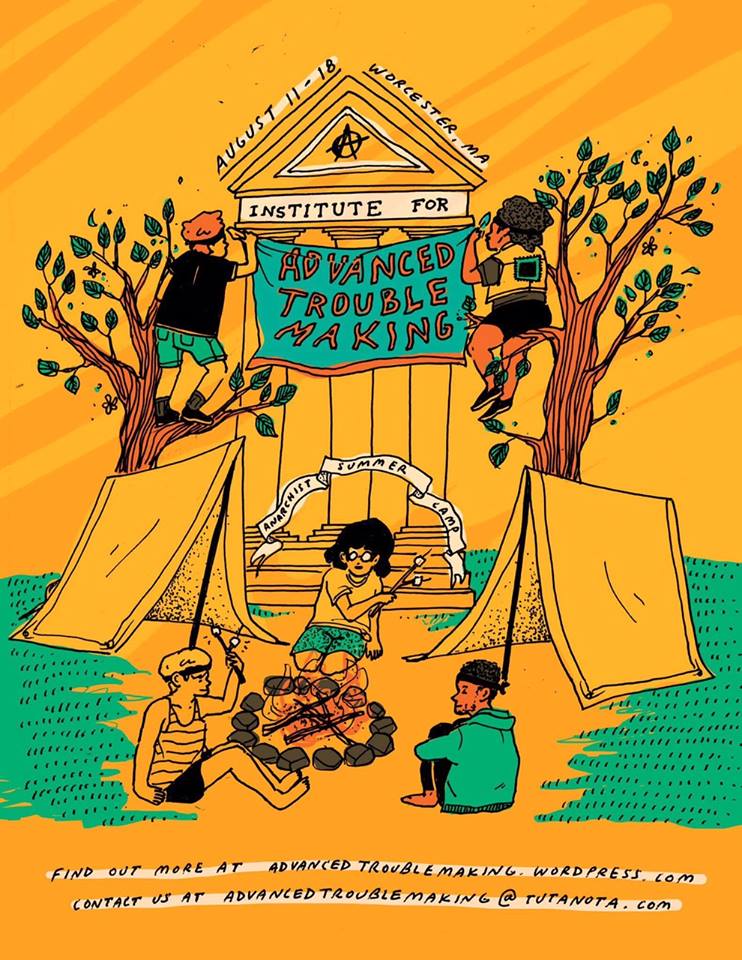 At this time, courses include:
DECOLONIZING ANARCHISM (3 SESSIONS) with Maia Ramnath.
This workshop will be organized in three parts. The first one, anarchism in anticolonial action, will explore colonialism/anticolonialism/decolonization, taking a historical overview of what these words mean and the various ways they manifest. We'll discuss how anarchists (in both colonizing and colonized positions) have related to such struggles, including those identified as national liberation struggles. Part two will focus on decolonizing the idea of anarchism, looking at various specifically located traditions of resistance and liberation philosophy/praxis that have affinity or share some key concepts with anarchism. It will analyze how anarchistic thought and praxis might look in different political, social, and cultural contexts. Finally, part three will center on anarchism and decolonization today, concentrating on some contemporary hot spots of empire and settler colonialism (drawing on my experiences organizing around Palestine and Standing Rock), and touching on ethical, practical, strategic, and tactical considerations for action.
Maia is a writer, historian, teacher, activist, and performing artist based in New York City. She has taught modern South Asian and world history, written two books (and is working on a third) and numerous articles on transnational radical anticolonial movements. A "self-identified" anarchist since the 1990s, she has since been active in organizing (under countless acronyms and affiliation hats) around a range of intersecting issues of economic, racial, and environmental justice, Palestine solidarity, and indigenous solidarity, all understood as interlinked aspects of the same imperial/colonial system. Maia is a member of the IAS and the Perspectives' journal collective.
Check out Maia's book Decolonizing Anarchism : An Antiauthoritarian History of India's Liberation Struggle
BURN DOWN THE AMERICAN PLANTATION: REVOLUTIONARY ABOLITIONISM (3 SESSIONS) with Khaled and Layla
The Revolutionary Abolitionist Movement is a political movement dedicated to freeing people from bondage and building anarchist resistance. We situate our political movement in the context of the abolitionist struggle against slavery, and are continuing the tradition from Nat Turner to the black freedom struggle. We believe the US Civil War was never resolved, the slave system was not abolished and actually transformed, and our struggle today must begin from this point. Lastly, as anarchists, we believe that the state and capitalism are illegitimate, and we are calling for their abolition, while using the Rojava Revolution as a model for self-governance and revolutionary self-defense. This three-part workshop will explore these themes and strategy.
Khaled and Layla are collective members of The Base, an anarchist political center in Bushwick, Brooklyn, committed to the dissemination of revolutionary Left and anarchist ideas and organizing.
EVERYDAY ANARCHISM: ASPIRATIONS, SOLIDARITY, AND DIRECT ACTION (3 SESSIONS)
 with Cindy Milstein
This workshop will explore anarchism as an ethical compass and visionary politics, both in terms of its ideals and how those aspirations are put into practice, or rather, into messy and beautiful experiments that necessitate bonds of solidarity and prefigurative direct action.
Cindy is the author of Anarchism and Its Aspirations, coauthor of Paths toward Utopia: Graphic Explorations of Everyday Anarchism, and editor of two anthologies, Taking Sides: Revolutionary Solidarity and the Poverty of Liberalism, and the forthcoming Rebellious Mourning: The Collective Work of Grief. Long engaged in anarchistic organizing, contemporary social movements, and collective spaces, Cindy has recently been part of solidarity projects countering displacement, gentrification, prisons, and police. Cindy was also death doula for three (biological and chosen) parents over the past four years.
"THE ANARCHIST TURN": UNDERSTANDING ANARCHISM IN THE TWENTY-FIRST CENTURY (2 SESSIONS) with Hillary Lazar
Since the Zapatista uprising in 1994, anarchism has become the primary organizing logic for many of the major recent mobilizations—from the Global Justice Movement, to Occupy, M15, and Greek antiausterity efforts, and now antifa resistance. Anarchists are also playing a vital role in helping to infuse a more radical perspective and praxis into the ongoing, interrelated struggles for racial, gender, queer, Crip, indigenous, immigrant, and climate justice.
This workshop will provide a brief historical overview of anarchism and what contributed to this shift along with taking a closer look at how it has informed organizing in recent decades. We'll also draw on experiences from our own respective political work to consider what anarchists can do to better strengthen and support current resistance and solidarity efforts, counterpower projects, and transformative movements for collective liberation.
Hillary has been involved with anarchist and radical education projects since the 1990s, and is currently part of the efforts to organize graduate student workers, a mentor and trainer for Organize Pittsburgh, a collective member of the Big Idea Bookstore, and a content editor for Agency: An Anarchist PR Project. She is a doctoral candidate in sociology at the University of Pittsburgh, where she teaches about social movements, gender, power, and resistance.
ART AND SOCIAL MOVEMENTS (3 SESSIONS) with Kevin Yuen-Kit Lo and Zola This course will facilitate discussions on the role of art in social struggles and the multiplicity of ways in which artistic practices support radical movement building. We will share examples of diverse approaches drawn from our own experience as artist-activists (in anti-racist and anti-colonial struggles, Palestinian solidarity work, student activism, and anti-capitalist cultural production), highlighting both successes and failures within specific campaigns and contexts. And there will be time for some hands-on art making within or outside this course. We hope to challenge the separation between "art" and "activism," revealing and deconstructing the ideological frameworks that structure all artistic practice. Furthermore, we will examine the affective bonds that are a central component of collective art making and the experiencing of art, to show how they are essential to the building of solidarity within and between social movements.
Kevin is a graphic designer, educator, and community organizer based in Montreal (Tiotià:ke). He runs the design studio LOKI, working at the intersection of graphic design and social change. The studio's practice focuses on collaboration and community building, cultural production, activist research, and political mobilization. He is a member of the Howl! Arts Collective, organizing artistic events and actions in support of social justice struggles, and Artivistic, an all-POC art collective working on friendship (in the largest possible sense of the word).
Zola is a street artist and community organizer. She became involved in activism through the Quebec student movement ten years ago, and has evolved between the Francophone and Anglophone realms of anti-capitalist and anti-oppressive politics of Montreal since then. In the past years, she has focused her time mainly on popular education around settler colonialism and indigenous solidarity through direct action and art.
ANARCHIST ORIENTATION IN GRASSROOTS ORGANIZING (2 SESSIONS) with Todd May This course will focus on techniques of grassroots organizing from an anarchist perspective. In the first part, we will explore basic grassroots organizing techniques. In the second part, we will ask about how to frame such techniques in an anarchist orientation as opposed to more traditional hierarchical organizational work.
Todd is a professor of philosophy at Clemson, and author of Nonviolent Resistance: A Philosophical Introduction, The Political Philosophy of Poststructuralism Anarchism, and thirteen other books of philosophy, including work on Foucault and Deleuze. Long involved in many resistance movements from anti-apartheid to LGBTQ rights, Todd has recently been doing trainings in grassroots organizing around the upstate of South Carolina as well as organizing against the Clemson administration's silence regarding the Muslim ban and racism on campus and in support of lower-paid staff at the university.
RADICAL FABRICATION, PRINTMAKING, AND MAKIN' THINGS with JULIA AND SPENCER
DIY production of art and design is an important entry point to the anarchist community. This session will discuss the different methods of producing large volumes of physical objects and media for maximum impact. We will discuss and demonstrate various digital and conventional fabrication tools and their application for activist art- including lazer cut stencils, sticker, and mobile printmaking. We will also discuss the accessibility of this equipment and the role of maker spaces and cooperative workshops in supporting movements. We hope to demonstrate several projects that have been implemented from our space along with exciting ideas we hope to try out soon. Time for smaller meetings with the instructors will be possible if participants are interested in learning more or fabricating a design.
Spencer is a carpenter and activist from Worcester who has been involved in cooperative workershops and maker spaces for many years. He is a member of the The League of JustUs mobile printmaking team.
Julia is a carpenter, artist, and dabbling herbalist. Julia has been making stuff and doing things as long as she can remember. After leaving college and joining friends in various justice oriented groups she's become proficient in speaking up, acting out, and not over committing herself to things she feels passionately about. She enjoys reading, being in nature, games, and talking about body stuff.
LEARNING OUR ABCS: EXPLORING ACCOUNTABILITY, BOUNDARIES, AND CONSENT IN OUR LIVES AND COMMUNITIES (2 SESSIONS) with WORCESTER FEMSEX
In this participatory workshop, we will collectively construct a clear definition of consent and affirmative consent practices using our own experiences as a guide. We hope to provide participants with tools and opportunities to practice running scenarios in order to better bring affirmative consent and clear boundaries into their lives and relationships. We also plan to open up space for participants to explore what happens when things go awry in our relationships and communities when consent isn't well-practiced. We will be using frameworks and tools from the FemSex curriculum to guide this work including, but not limited to: role-playing, dialogue, storytelling (explicit and anonymous), and pod-mapping tools.
ACTIVIST CLIMBING with V H S S K
The basics in climbing for direct actions. More advanced climbers will be focusing on skill sets beyond the basics- so please let us know what you are interested in learning on our application.
ANARCHISM, PERMACULTURE, AND RADICAL ECOLOGY (3 SESSIONS) with Pavlos Stavropoulos
Drawing from social anarchism, social ecology, and traditional indigenous knowledge, and using the lens of decolonization, we will explore permaculture as a practical tool that emphasizes social and ecological integration through design methods based on observance and replication of nature, diversity, egalitarianism, and decentralized, autonomous control of communities along with their environment and resources. What can permaculture teach us about strategy and place in designing and creating egalitarian, free, and ecological neighborhoods and communities? How can anarchism help bring out the implicit radical and liberatory potential of permaculture? How can a deep and liberatory understanding of ecology strengthen anarchist theory and practice? How can a radical ecology resist the de-radicalizing phenomenon of cultural appropriation? Drawing on theory and historical as well as contemporary examples, we will critically examine our practices while calling for a new radical ecology that informs our movements and our work for another world.
Pavlos is a community activist and educator who has been part of indigenous, anarchist, environmental, solidarity, and local struggles, both in the United States and his native Greece. He is the founder of Woodbine Ecology Center, which focuses on the confluence of sustainability, social and environmental justice, indigenous knowledge, and decolonization struggles.
WELDING FOR ACTIONS (2 SESSIONS) with A J
Participants will learn the basics in welding, welding for blockades and action equipment, and welding in the field.
INTRO TO NONVIOLENT DIRECT ACTION (1 SESSION) with SWARM
The basics in planning and executing non-violent direct actions.
*************************************************************************************
Apply to attend here!!
Check out the Institute for Advanced Troublemaking's website here.