This piece appears in the current issue of Perspectives on Anarchist Theory, N. 28, on Justice available from AK Press here. Brad received an Institute for Anarchist Studies writing grant to assist in the completion of this piece.
"War is the health of the State" – Randolph Bourne, written during WW I
"Mutiny is the conscience of war" – Common trench graffiti during WW I
Introduction
War and military occupation are among the most overwhelming demonstrations of state power. Rooted in an anti-state analysis, the anarchist position on geopolitical power struggles between nation-states is unequivocal opposition, especially in reference to international interventions by the US military.
The logical conclusion might be that anarchists should categorically oppose the individuals who are part of the institution of the US military: the troops. Similarly, it may follow that those people who make up the military and veterans would be among the most hostile toward anarchist ideals and action.
However, through my involvement in anti-war movements and anarchist circles over the last ten years, I have encountered a surprising number of anarchists opposed to the US military who are themselves US veterans. For many of them, their experience as GIs ("Government Issue," a nickname commenting on the fact that service members are treated as government property) played a significant role in forming and developing their anti-authoritarian and anarchist analysis. What follows is based on interviews with a number of anarchists and anti-authoritarians who also happen to be military veterans.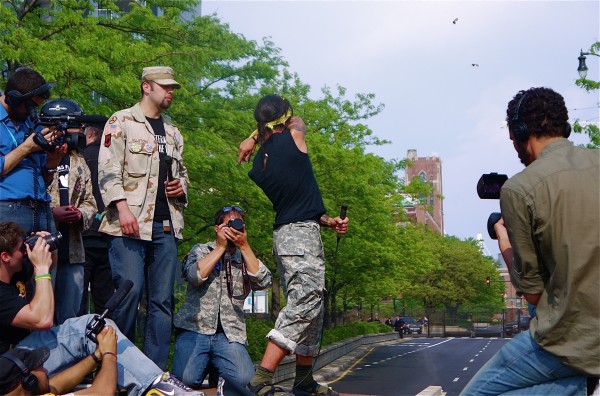 (Chicago, 2012: US military Vets throw their medals back during anti-NATO protests. This is Jacob George, a vet who I had hoped to interview as part of the project, who later took his own life.)