This review appears in the new issue of Perspectives on Anarchist Theory, N.29, on the theme of anarcha-feminisms.  It is available from AK Press here!
Radicals, including many anarchists, are involved in actively organizing against gender and sexual violence around the world. For example, Operation Anti-Sexual Harassment/Assault in Egypt; Las Kallejeras in the shantytowns of Santiago, Chile; the Colectiva de Gafas Violetas in Mexico; and countless other local initiatives all confront perpetrators in workplaces and organizing work. Yet, the task of addressing sexual violence, even in anarchist circles, continues to be singled out as primarily the job of survivors and their most immediate circles, instead of as a collective political responsibility. As an issue that we are socialized to meet with silence and stigmatization, sexual violence is commonly underemphasized or obscured amongst both radicals and society at large. Take for instance, ignorance of the fact that one out of three women in the world will be raped at some point in their lives. Or that, in the US, ninety-one percent of reported rape survivors are women, the most vulnerable being queer and gender nonconforming youth and people with physical disabilities, and fifteen percent of children are survivors of rape and incest. It is critical that our politics be aware of and address this. We need to be more diligent and active in both understanding sexual violence and linking it to radical organizing.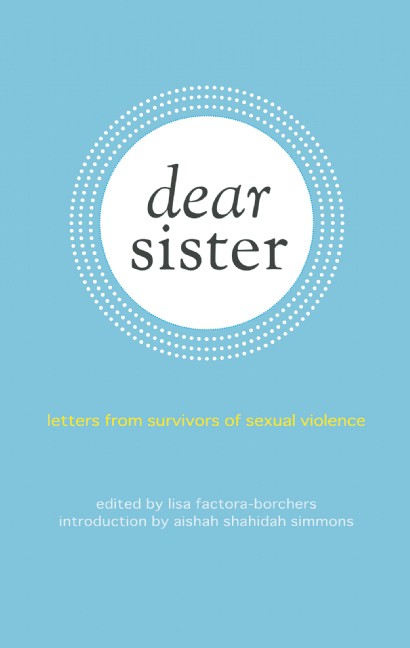 Consider reading Dear Sister: Letters from Survivors of Sexual Violence (AK Press, 2014), an anthology containing fifty insightful pieces, written by survivors from all walks of life, as part of this process. The book features an introduction by African-American incest and rape survivor and filmmaker Aishah Shahidah Simmons, and is edited by Philipina-American feminist author and survivor advocate Lisa Factora-Borchers. Known for having extensive involvement with survivors via coalition work, nonprofits, and institutions of higher education before piecing together Dear Sister, Lisa Factora-Borchers was first approached by Black feminist author Alexis Pauline Gumbs who asked her to write a letter of support to a friend who had just been raped. Not knowing the survivor's situation, her name, or much else about her, Lisa Factora-Borchers nevertheless acknowledge the situation and communicated support. Hence the idea for the book was born.