The Institute for Anarchist Studies (IAS), together with the Burgerville Workers Union (BVWU), presents David Ranney, author of the new book Living and Dying on the Factory Floor: From Outside In and the Inside Out (PM Press, 2019). David will be speaking at the AFSCME Labor Center, at 6025 E Burnside, in Portland, Oregon on Thursday, May 16th, at 6pm.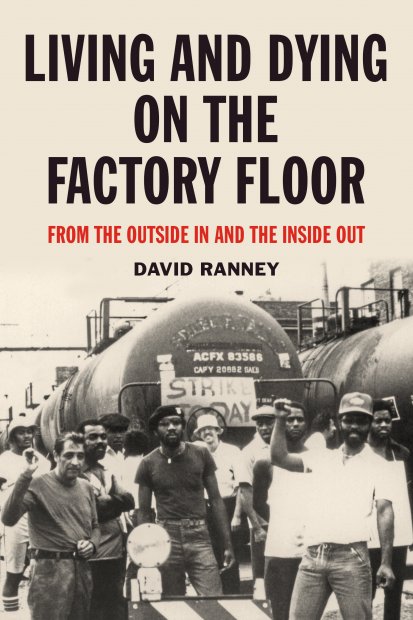 David Ranney's vivid memoir describes his work experiences in the factories of Chicago and Indiana. The book opens with a detailed description of what it was like to live and work in one of the heaviest industrial concentrations in the world. Along the way there is a wildcat strike, an immigration raid, shop floor actions protesting supervisor abuses, serious injuries, a failed effort to unionize, and a murder. Ranney's emphasis is on race and class relations, working conditions, environmental issues, and broader social issues that impact work. The book concludes with discussions on the nature of work; racism and class; the use of immigration policy for social control; and our ability to create a just society.
David Ranney was a factory worker, a labor and community organizer, and an activist academic. He is professor emeritus in the College of Urban Planning and Public Affairs at the University of Illinois at Chicago.
"David Ranney has produced a riveting memoir of his years working industrial jobs on the southeast side of Chicago. Compellingly written and thought provoking, Living and Dying on the Factory Floor brings to life the daily realities of race, class, and gender in an urban community on the brink of joining the rust belt. Ranney pairs vivid depictions of everyday forms of social struggle with timely reflections on the political implications for contemporary readers. This book will be required reading for the next generation of radicals, particularly those hoping to understand how we arrived at the postindustrial 'gig economy,' and how we dismantle it and construct a truly free society."
—Michael Staudenmaier, author of Truth and Revolution: A History of the Sojourner Truth Organization, 1969–1986
The Institute for Anarchist Studies (IAS) is an educational organization that publishes books with AK Press and our own journal, Perspectives on Anarchist Theory. The IAS is now in its 23rd year, and we award grants to struggling writers and other makers of media. The Burgerville Workers Union (BVWU), based in Portland, Oregon, seeks to improve working conditions for all workers, and is part of the Industrial Workers of the World (IWW).
Childcare will be available, and copies of Dave's book will be for sale.