Grant Applications Open! Kicking Off 25 Years
The Institute for Anarchist Studies is turning 25 and opening grants!
The IAS is dedicated to furthering anarchist ideas and making them accessible to a broader audience. To celebrate a quarter century of supporting radical thought, we are excited to announce the renewal of our grants program for 2021.
We are currently looking for projects that focus on one of the following topics:
Black and Indigenous Anarchism(s)

Police

Abolition and Alternatives

Mutual Aid
While we will accept proposals for written work at this time, priority will be given to short video and multimedia projects that serve as foundations or definitions or that further education on one of the above topics, as well as to media makers of underrepresented identities who demonstrate financial need.
Submissions will close January 31, 2021.
To apply, please visit: https://forms.gle/za22vgZzC1D7XozCA
Perspectives Issue 32: Power
Our next issues of Perspectives on Anarchist Theory: Power will be available early this winter, with some exciting new changes and developments, including art direction by Gallery of the Streets. Keep your eyes on our website and look for an announcement here in our newsletter!  Until then, take a look at the powerful work in response to our call for digital submissions on the theme of Pandemics From The Bottom Up. 
Coming Soon Representing Radicals: A Guide for Lawyers and Movements
The IAS is proud to announce that Representing Radicals: A Guide for Lawyers and Movements, by the Tilted Scales Collective, will be available in May of 2021! 
Here's the scoop from our publishing partner AK Press, and some advanced praise:
Representing Radicals helps lawyers understand ways to work with radical defendants, with an explicit focus on how to help them achieve ends that go beyond traditional legal goals. For example, many radical defendants want to use their trials to discuss political issues even if doing so could lead to a conviction when a standard criminal defense might lead to an acquittal. Understanding radical defendants' goals and political priorities is a crucial part of providing them with the most robust criminal defense while helping them strengthen and defend their social movements. This book and its precursor, A Tilted Guide to Being a Defendant, are based on the Tilted Scales Collective's belief that lawyers and radical defendants can work together in shared struggle in ways that strengthen movements when fighting criminal charges.
"Representing Radicals is a critical, timely resource for movement lawyers and legal workers to understand and center shared litigation strategies of those navigating the criminal legal system in their struggle for liberation."
— Pooja Gehi, executive director of the National Lawyers Guild
"Taking our struggles to the streets means being ready to defend ourselves in the courtroom. Representing Radicals is a concise and practical manual that will play an invaluable role in facilitating the cooperation between movement defendants and their counsel in the many struggles to come."
— Mark Bray, author of Antifa: The Anti-Fascist Handbook
Learn more about the Tilted Scales Collective here, and find their first book, A Tilted Guide to Being a Defendant, at AK Press.  
Support the IAS in 2020
2020 has been a year of grief, inspiration, rage, solidarity, and so, so many other feelings. As the IAS comes up on its twenty-fifth year in 2021, we are feeling grateful for our radical community. The IAS still primarily relies on you to fund our work.  If you are planning any end-of-year donations or want to throw $5 to an anarchist jurisdiction, we are here to humbly ask for your support. You can sign up to donate $5 a month here, or make a one-time donation in any amount to us via PayPal. Old fashioned snail mail works too, and our mailing address follows at the end of this newsletter. With that, we want to warmly thank everyone who has donated to the IAS this year!
Sharing and promoting our work is equally as important as making donations. If you want to see more from the IAS or have liked what we've done, follow and share our posts on social media. You can pass on your old copies of Perspectives to friends, host a Mutual Aid Speaker, or forward this newsletter to a fellow radical. All of our books and copies of our journal Perspectives on Anarchist Theory are available att AK Press too (and keep your eyes out for being able to buy from us directly in the near future!). We're grateful for your support on all fronts. Thank you! 
"Why Anarchism Is Dangerous" is Online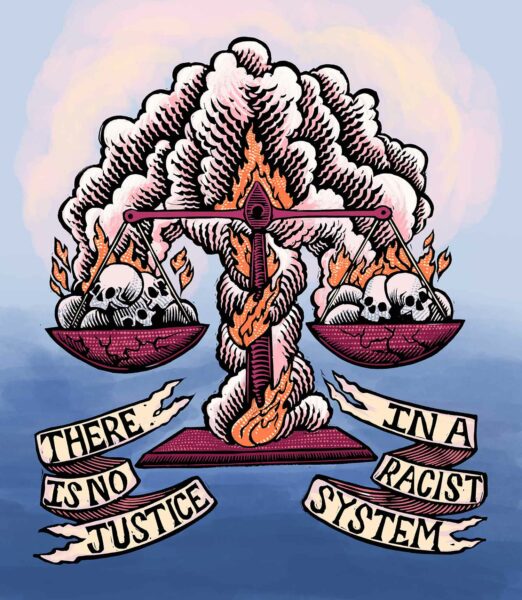 (No Justice in a Racist System – Roger Peet)
We've noticed the many articles on anarchism in the news these days, and we are guessing you have, too. Some good (Teen Vogue!), many bad. On the good side, we're reading Dana Ward and Paul Messersmith-Glavin's recent piece "Why Anarchism is Dangerous," published online by Agency, It's Going Down, and CounterPunch. Enjoy a short taste below, and check out the entire piece here. 
"We share a desperate need for a fundamentally different society. One that does not wreak havoc on the environment in pursuit of profits, one where police no longer murder people of color to preserve white supremacy, one free of the exploitation of people's labor, and free of misogynist violence, a society where the people affected by political decisions are the ones making those decisions. A directly democratic society principally opposed to domination and exploitation is some of what anarchism offers and why it is so dangerous to the wielders of established power."
Support Independent Radical Writers & Culture Makers
The Institute for Anarchist Studies (IAS) is funded by donations from people like you: anarchists, anti-authoritarians, libertarian leftists, and other like-minded radicals interested in furthering anarchist scholarship and culture. 
If you enjoy what we do, consider supporting us through a donation, becoming a sustainer, or buying an issue of Perspectives.
You can provide a one time or a monthly donation here via PayPal, or you can mail cash, checks or money orders to the address above. The IAS also raises funds through the Mutual Aid Speakers List, selling merch and books, and by donations at events. In this way, the IAS is both independent, yet deeply connected to and supported by anarchist and like-minded folks and movements. The IAS, in short, is about the anti-authoritarian Left sustaining its own public intellectuals and critical intellectual spaces to provide funding for organizers to take the time to reflect and write.