Kim Stanley Robinson, The Ministry for the Future (New York: Orbit, 2020)
After the basics of food and shelter that we need just as animals, first thing after that: dignity. Everyone needs and deserves this, just as part of being human. And yet this is a very undignified world. And so we struggle. You see how it is (551).
The Ministry for the Future is Kim Stanley Robinson's latest contribution to the emerging genre of climate fiction, known as "cli-fi." Climate fiction is a subset of science fiction, set in the near or distant future, that centers the projected dystopian effects of global warming and the sixth mass extinction on humanity and nature, while exploring creative and utopian ways of salvaging the future of our species, together with that of millions of others.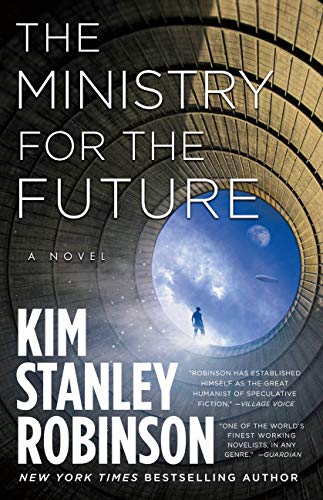 As in his other recent speculative works, from Aurora (2015) to New York 2140 (2017), Robinson here draws implicitly on the concept of "disaster communism" developed by the Out of the Woods climate collective—a form of mutual aid that relies on "a kind of bricolage." Some concrete examples of this bricolage ("work made from available things"), as the collective explains in a 2014 article, include trucks being "repurposed to deliver food to the hungry, retrofitted with electric motors, stripped for parts, and/or used as barricades," and ships being "scuttled to initiate coral reef formation." Indeed, in Ministry, Robinson alludes to the repurposing of destroyed container ships as reef beds, and praises Robinson Crusoe for ingeniously "ransack[ing] the wreck of his ship" (229, 367). Thus history—and, by extension, the future—can be remade at the intersection of communal self-organization and the autonomous reconfiguration of existing technologies and infrastructures. As the Out of the Woods collective argues, "the unfolding catastrophe of global warming cannot and will not be stopped" without the "transgressive and transformative mobilization" of disaster communities agitating for a new, post-capitalist global system. As we will see, Robinson's Ministry is animated by a parallel desire to put an end to the "strip-mining [of] the lifeworld," and to "help us get to the next world system" (163, 317).
Compared with most of Robinson's other twenty-five published works, Ministry is among the closest in time frame to our own. It starts in the mid-2020s, just five years after its publication date. Measured in terms of atmospheric carbon dioxide concentration, the world of Ministry begins at 447 parts per million (as compared to earth's current level of 417ppm). Unlike Aurora, Red Moon, the Mars trilogy (1992–1996), Galileo's Dream (2009), or 2312 (2012), the plot in Ministry—with the exception of some lyrical scenes depicting airship flight—is earthbound, focused on terrestrial humanity and nature, rather than interplanetary or interstellar life and travel. Despite this difference, all of Robinson's cli-fi books share humanistic, ecological, scientific, and historical themes, lessons, and quandaries, and Ministry is no exception. Efforts to address the catastrophic twin threats of a melting polar ice and sea level rise are central to the narratives of Green Earth and Ministry alike.
Although set centuries apart, and/or in differing parts of the solar system or galaxy, Robinson's novels commonly feature radically subversive political struggles, journeys of existential discovery and loss, interpersonal romances, explorations of the relationship between humanity and other animals (our "cousins"), historical optimism, an emphasis on human stewardship and unity, and the creative use of science to solve social and ecological problems (502). In this sense, his latest work is no exception.
A Global Scope
The Ministry for the Future begins with a shocking illustration of capitalist hell, as Frank May, a young, white US aid worker, witnesses climate devastation firsthand in India, where an estimated twenty million people perish in an unprecedented single heat wave induced by global warming. As the only survivor of the heat wave in a village in the state of Uttar Pradesh, Frank experiences significant trauma and guilt, and goes somewhat mad. In this, he echoes the quixotic crossover of neurodivergence and heroic agency seen in several other of Robinson's male protagonists, from Saxifrage Russell in the Mars trilogy to Frank Vanderwal in Green Earth and Fred Fredericks in Red Moon.
At the national level, this catastrophe delegitimizes the ruling Bharatiya Janata Party (BJP), which is voted out in favor of the nascent Avasthana ("Survival") Party. In turn, the new government switches the Indian energy grid from coal to renewables, and launches thousands of flights to spray aerosols into the stratosphere, in an effort to double the effects of the 1991 eruption of Mount Pinatubo in the Philippines. This unilateral geoengineering scheme effectively cools global temperatures by 1 to 2°F (0.6–1.2°C). Dialectically, this "New India," a formidable "green power," promotes land reform, biosphere reserves, "communist organic farm[ing]," the decentralization of power, and a questioning of patriarchy and the caste system (141–42). Thousands of miles away, these sweeping changes resonates in arid California, where the state government recognizes all water as a commons, "blockchaining" it for the purpose of collective accounting and use in the face of sustained drought. This is before an "atmospheric river" destroys Los Angeles, "the [capitalist] world's dream factory," and a heat wave ravages the US Southwest, taking the lives of hundreds of thousands (285, 348–49).
Just prior to the South Asian heat wave, in 2025, the Ministry for the Future is founded as a "subsidiary body" to the Paris Climate Agreement of 2016. Headquartered in Zurich, Switzerland, the ministry is tasked with representing the interests of future generations, as well as the defense of entities that cannot represent themselves, such as nonhuman animals and ecosystems. Much like the US National Science Foundation (NSF) featured in Green Earth, this ministry is led by cutting-edge, clear-minded scientists; it is distinguished, however, by its international and global scope, as well as its use of artificial intelligence (AI). Part of its mission involves the identification and prosecution of climate and environmental criminals across the globe. Initially, the ministry utilizes legalistic methods to pursue these offenders, but, after a late night confrontation between the deranged Frank and the ministry's Irish director, Mary Murphy (whom he kidnaps and harangues), decides to quietly support a black ops wing headed by the Nepali Badim Bahadur. The parallel organization, which may be the same as the "Children of Kali" group, and other underground cells, execute weapons manufacturers, disrupt the World Economic Forum at Davos, destroy airliners, sink container ships, and purposely infect cattle herds to prevent their consumption, all as part of the "War for the Earth." Soon, the Children of Kali are joined by Gaia's Shock Troops, along with fictionalizations of the real-world Defenders of Mother Earth and Earth First!
Under Bahadur's direction, the ministry, led by Mary Murphy, not only pursues covert campaigns, but also develops two major proposals to save the world from the menaces of ecocide and militarism: First, it aims to appeal to the central banks of the most powerful states to stimulate decarbonization by replacing the dollar with a new global currency called "carboni." This new currency is backed, in turn, by long-term bonds and applied in conjunction with progressive carbon taxes, intended to incentivize survival. But it is only after popular occupations of Paris and Beijing, demanding a "kind of commons that was post-capitalist," and "millions [coming out to] the streets," transferring their savings to credit unions, and launching a debt strike after the climatic destruction of LA, that the "useless" bankers and "corrupt" lawmakers feel compelled to take steps to adopt "carbon quantitative easing" and remove the profit motive from the fossil fuel industry (214, 252, 344). Second, to slow down the retreat of polar sea ice (and similar to a plan outlined in Green Earth), the ministry backs a proposal to drill into glaciers and pump their melted remnants back onto the surface for refreezing.
After Intervention, the "Good Future"
Once carbon taxes and the carboni currency have been introduced in Ministry's world, progressive political changes begin to follow. The despotic al-Saud family is overthrown in Arabia, and the interim government pledges to immediately finance the suspension of oil sales and a full transition to solar power through compensation in the form of carboni. Likewise, the "Lula left" makes a roaring comeback in Brazil, stopping the country's sale of oil and promising to protect and restore the Amazon rain forest, all in response to the newfound incentives created by carboni. The African Union backs the nationalization of all foreign firms, and their transformation into worker cooperatives, as a means of presenting "a united front toward China, [the] World Bank, [and] all outside forces" (324–25, 355).
In Russia, a democratic opposition movement overwhelms Putin's regime. Refugees in Europe—overwhelmingly Syrian—are given global citizenship and worldwide freedom of movement. Reacting to the pressures of a "brave new market" on the one hand, and of relentless eco-saboteurs on the other, the transport and energy sectors decarbonize. New container ships are designed, partly with the assistance of AI, integrating a return to sail technology and innovative electric motors that run on solar energy. In line with E. O. Wilson's proposal for "half of earth" to be set aside for nature, a number of habitat corridors are established in North America, connecting the Yukon with Yellowstone, and Yellowstone with Yosemite, incorporating the Rocky, Olympic, and Cascade Mountain Ranges. In these corridors, hunting is banned, roads are ripped up, and underpasses and overpasses are built to facilitate the safe movement of animal populations.
Across the globe, communal, national, and regional socio-environmental organizations coalesce to rewild, restore, and regenerate ecosystems and the human social fabric. Atmospheric carbon concentration peaks at 475ppm, then begins a sustained decline (454–55). The British, Russian, and American navies collaborate to support "Project Slowdown," the systematic pumping of glacial meltwaters, in Antarctica. The Arctic Sea is dyed yellow, to salvage some degree of albedo, or reflection of solar radiation, in light of melted sea ice. Social inequality declines sharply as universal basic income is adopted and land is increasingly converted into commons.
Rights are extended to nonhuman animals. More and more people shift to cooperative, low-carbon living and plant-based diets, just as communism, participatory economics, workers' cooperatives, and degrowth emerge as reasonable components of a "Plan B" response to a climate-ravaged world. Frank accompanies Syrian and African refugees, volunteers with mutual aid organization Food Not Bombs, and expresses his love for both Mary and his fellow animals (372–73, 435, 447).
This alternate future is not free of tragedy, however. Tatiana, the ministry's "warrior," is assassinated by a drone, presumably directed by Russians seeking revenge for the ouster of Vladimir Putin—much as the anarchist Arkady Bogdanov and his comrades are firebombed by capitalists toward the end of Red Mars. This leads Mary Murphy to go into hiding, something the revolutionaries on Mars and Chan Qi, the female Chinese dissident in Red Moon, must also do.
Questions and Critique
She clutched his arm hard. We will keep going, she said to him in her head—to everyone she knew or had ever known, all those people so tangled inside her, living or dead, we will keep going, she reassured them all (563).
The Ministry for the Future is an engaging, entertaining, and enlightening read. It presents a hopeful vision of the future, whereby mass civil disobedience and direct action against corporations and governments serve as the necessary levers to institute a scientific, ecological, and humanistic global transition beyond capitalism. The plot features conflicts between the market and the state, and it is obvious where Robinson's allegiances lie. As Mary declares, in this struggle, "we want the state to win" (357). Paradoxically, as an internationalist and an ecologist, Robinson endorses the "rule of law" as an important means of bringing capital to heel (61). At least for the time being, he believes that money, markets, and banks will themselves need to be involved in the worldwide transition toward social and environmental justice—that is, their own overcoming: "Without that it's castles in air time, and all will collapse into chaos" (410).
Undoubtedly, this vision is different than that of anarchism, which foresees bypassing the hopelessly compromised state and overthrowing capitalism directly through the self-organization of the international working classes. Robinson admits his narrative does not advocate "complete revolution," as left-wing radicals would (380). Rather than advocating the overthrow of the state, he calls for changing the laws. Indeed, in his construction of an alternate future, Robinson defines the Paris Agreement as the "greatest turning point in human history," and the "birth of a good Anthropocene" (475). Mary Murphy's ministry seeks to appeal to the same "bank/state combination" that has caused, and continues to perpetrate, the very climate crisis that threatens humanity and the rest of complex life on earth (212).
To advocate such a statist strategy as a means of salvaging the future, even as an "insider" counterpart to the direct actions carried out by revolutionary "outsiders," several assumptions must hold—many of them questionable. For instance, Robinson assumes that all countries will adopt the Paris Agreement in good faith; that the ministry would be allowed to come into existence in the first place; that the BJP in India would not only be voted out of power but also accept its electoral defeat peacefully; that Trumpism and the US Republican Party would be out of the picture; that the masses would mobilize radically for socio-environmental justice across the globe and not be brutally repressed, as they were in Mexico City's Tlatelolco Plaza, Beijing's Tiananmen Square, Occupied Palestine, Syria, or Myanmar/Burma, to name just a few examples; and that the bankers would consider, much less implement, a new global currency based on one's contributions to carbon sequestration.
 Of course, it is partly, if not largely, due to the imaginative assumptions and visions elaborated by speculative writers that audiences are so attracted to the genres of science fiction and fantasy. We must not chide Robinson for exercising his utopian imagination, as it has produced so much beautiful and critical art, including Ministry. At the same time, it is fair to question the intersection of philosophical statism and psychic optimism in his cli-fi. Such a constellation, for instance, unfortunately leads Robinson to compliment the organization of the US Navy, and to praise Dengist China as socialist (155, 381–83). An anarchist approach, in contrast, would prioritize the mobilizations, strikes, and other direct actions present in the text, while adopting a more critical and immediately abolitionist stance toward the state and market.
Conclusion
The Ministry for the Future continues Robinson's critically visionary, optimistic, and reconstructive speculative fiction. In narrative form, he explains why we must change the system, and presents us with a panoply of means—revolutionary and reformist alike. He emphasizes the need for a "Plan B" to be developed ahead of time, to sustain the revolution, once it breaks out—much as the martyred Syrian anarchist Omar Aziz believed, and as the Frankfurt School critical theorist Herbert Marcuse's own tombstone declares: Weitermachen! ("Keep it up!")
Compared with the disastrous eco-futures depicted in such cli-fi novels as Aurora or New York 2140, The Ministry for the Future depicts a dynamically utopian story of estrangement, self-discovery, and creative struggle to ensure a better future. In this sense, it is reminiscent of Pacific Edge (1990), the most hopeful of Robinson's Three Californias trilogy. At its best, Ministry conveys what could be.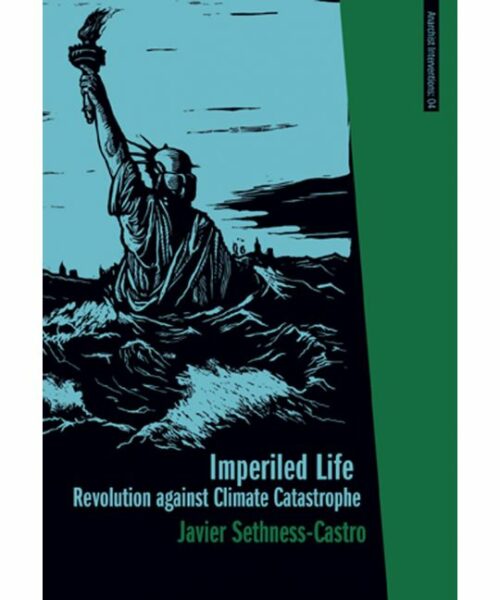 Javier Sethness Castro is a primary care provider and the author of the Institute for Anarchist Studies / AK Press Anarchist Interventions title Imperiled Life: Revolution against Climate Catastrophe, (available here by clicking on the title). Sethness Castro has written three other volumes: Eros and Revolution: The Critical Philosophy of Herbert Marcuse (Brill/Haymarket); I Am Action: Literary and Combat Articles, Thoughts, and Revolutionary Chronicles by Praxedis G.Guerrero (AK Press); For a Free Nature: Critical Theory, Social Ecology, and Post-Developmentalism (Lambert Academic Press).
Kim Stanley Robinson's Ministry of the Future is available from Powell's Books here!